THE HOFF HOUSE
A TRUE SOUTHWEST KANSAS GHOST STORY
It was a cool winter day, when my friend and I were out shooting. We were next to a house that was empty. The house was known as "THE HOFF HOUSE". We had been in the house many times before, and had never felt anything wrong. That day, however, things were different. Not just feelings, but also the house itself. we went in just to walk around a little, and from the moment we walked in, we knew there was something wrong. Things were moved. Curtains that had previously been folded and put away were crumpled on the floor away from the closet where they should have been. Doors which were in good condition had marks on them. Scratch marks from what we determined could only be human fingernail scratches. they were too wide to have been from a wild animal of any sort in Southwest Kansas. There was a rope hanging off the back like someone had been tied to it. What looked to be the remains of a womans clothes, however they were too shredded to be positively recognized. We went into the basement of the house and there was a clean spot on the floor, as if it had been cleaned just the day before. If you have spent any time in Southwest Kansas, you know that the wind and the dust blow, leaving no surface clean for long. The area around the spot was covered in dust and mouse feces. No footprints or transfer streaks were visible, which would have been impossible to avoid to get to that spot. There was no blood, dust, or any mater of any kind, it was completely clean, as if recently mopped. We tried the best we could to find evidence of any sort to explain the condition of the house that night, but all we knew was that we both felt like we were being watched, also that something very bad had happened there. We searched everywhere and even set up things so that we would know if something had been there. A week later we went back. And something (not an animal) had been there and done what we had termed as "follow up". The clothes were gone, the doors had been scraped, but still that oppressive feeling lingered. To this day, I still feel something wrong if I go there.
SIR GHOST
SOUTHWEST KANSAS
We investigated "THE HOFF HOUSE" only to find that it was more haunted than the instigator had mentioned to us. As we walked through, he pointed out that items had been moved, doors opend or closed, items were missing, in total it was quite different than last he was there. The house was previously put in order only to return to chaos. We all had a very edgy feeling while in the house. Some of us felt drawn to certain areas, while the others felt repelled.
Orbs and strange patterns on the walls.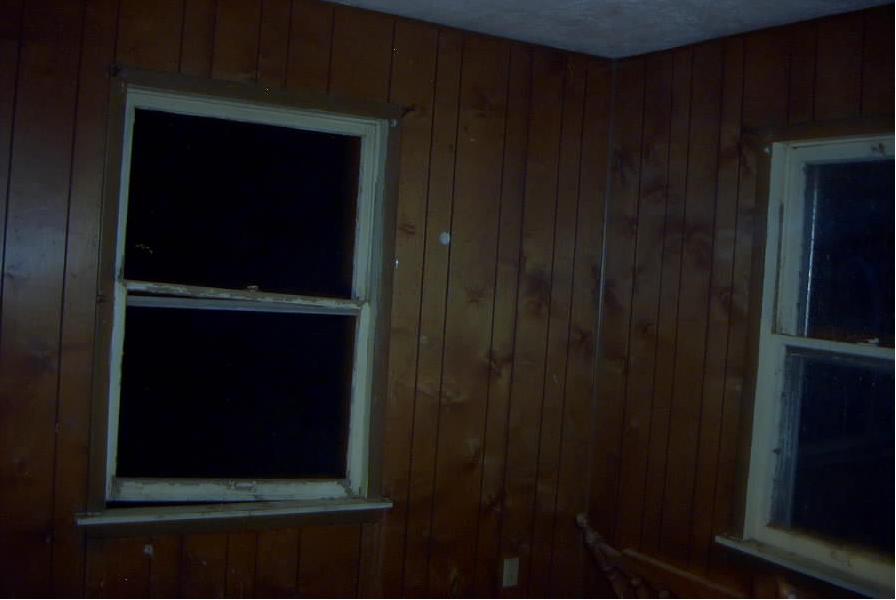 Fingernail marks, scraped off paint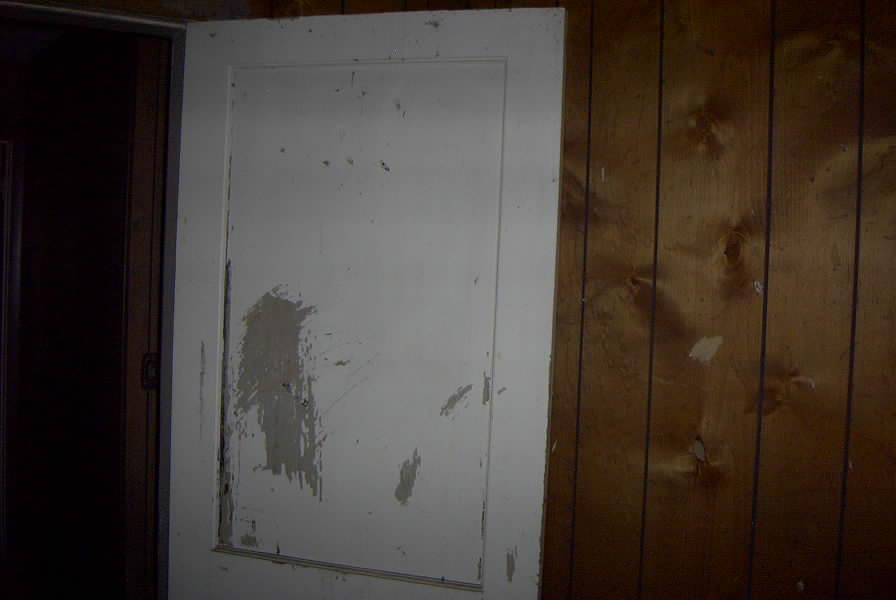 and a human looking shape on the wall
More apparent fingernail marks, scraped off paint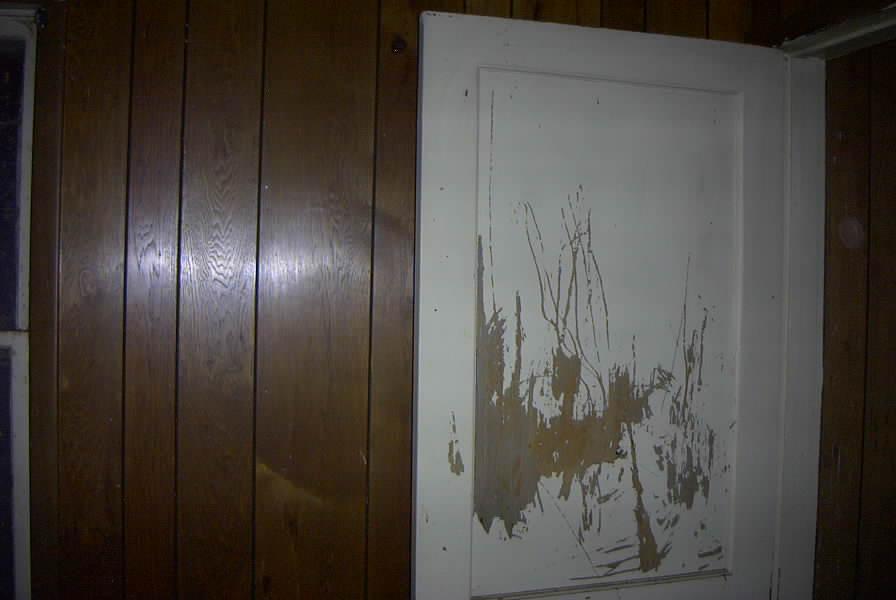 and another human looking shape on the wall
Back side of the above door, virtually unmarred.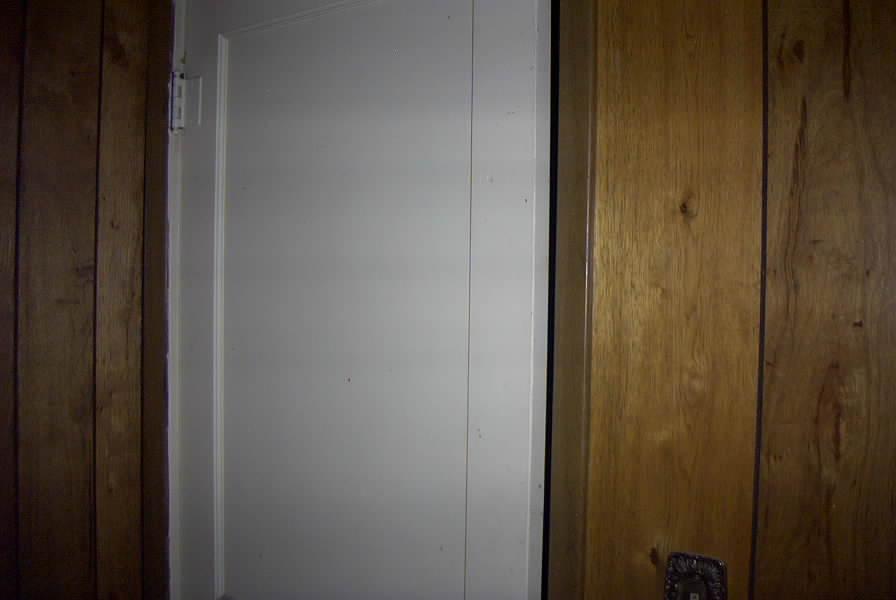 Orbs, orbs everywhere.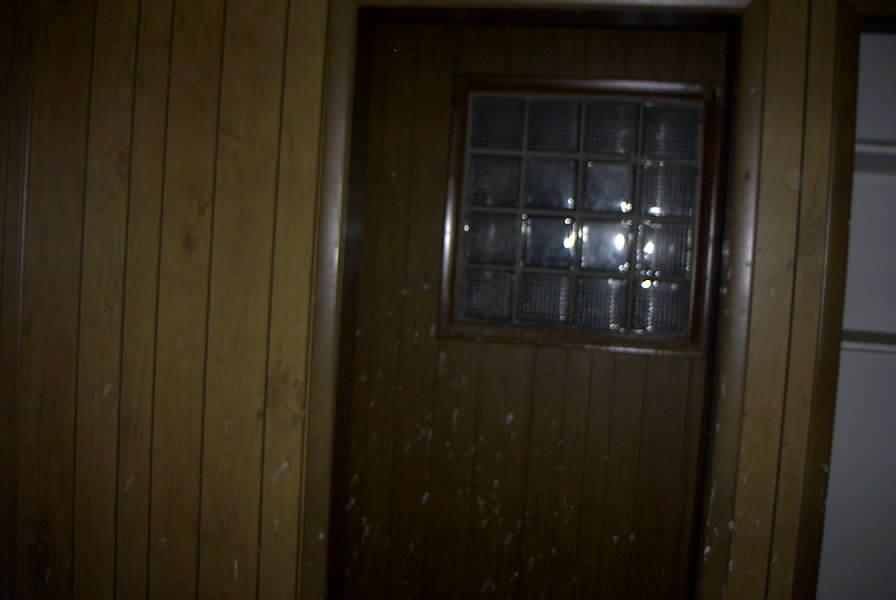 Entity was asked to show itself.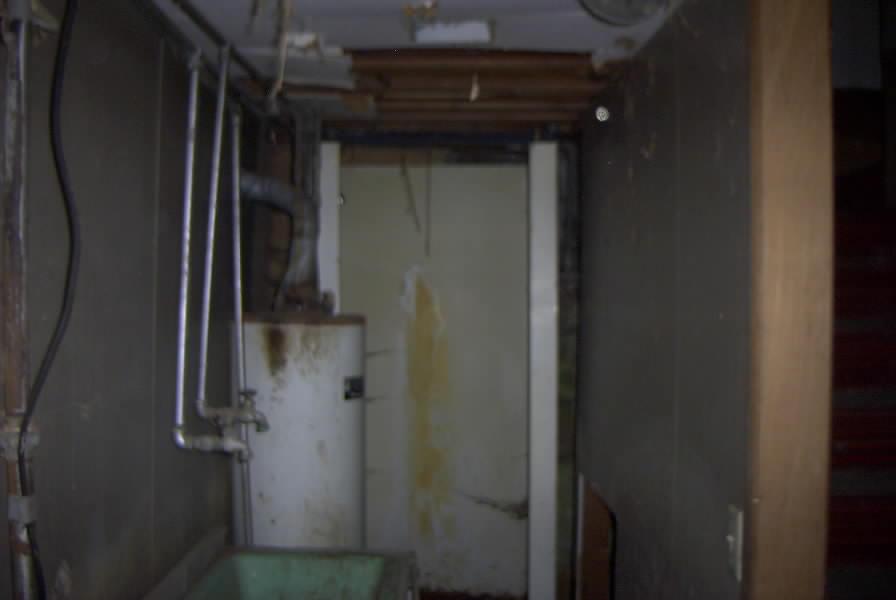 Orb near upper right side???????
Open cabinets.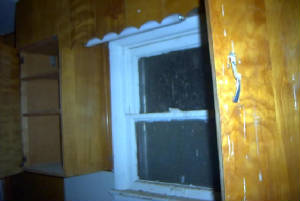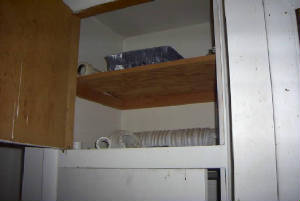 Outside temps: County Avg.-62; Outside house-45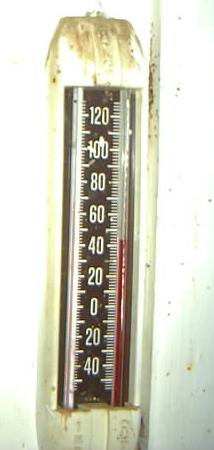 Inside temperature doesn't even show. It was cold!!!!!!!!
On the daytime run-by, our host told us about another house we would be passing by. I saw someone looking out the window at us as we passed by. we were told nobody lived there. It had been vacant and for sale for many years. It sounded very interresting, but we didn't have permission to investigate so we just had a look around on the outside that night. We wil be obtaining permission in the near future!!!! The story will have to wait for confirmation.
The flash decided not to work for 3 pictures.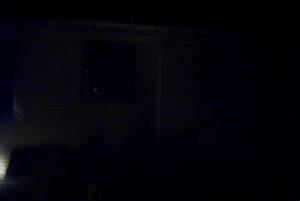 Notice the flashlight glow in the bottom left corner.
Look closely at the screendoor. Look again. Again.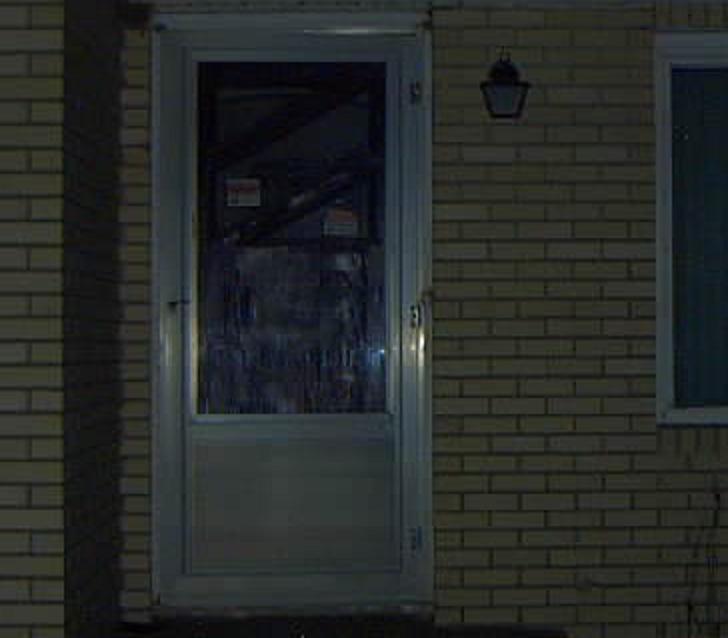 What do you see? We see an adult woman.
The above picture is the front door of what we are calling "The Vanish House". It has been enlarged only. The below picture is the original, lightened. There were absolutely no people in that area, except the photographer. The house was completely empty. No one has lived there for somewhere around 11 years. It was night, there was no light behind the photographer. The team members have scrutinized this photo to the point of exhaustion. This is authentic. It is a digital image, not film. The image itself has not been enhanced or altered in any way other than stated above.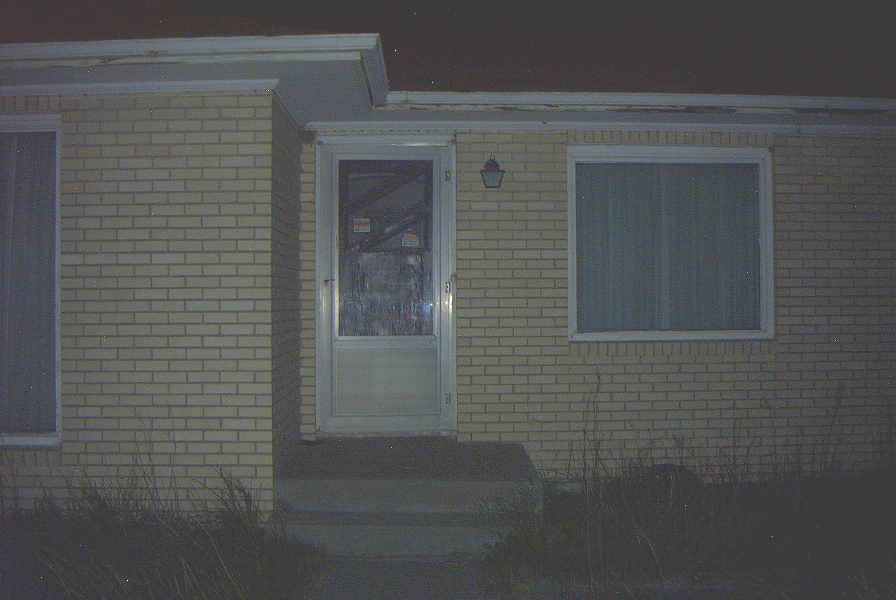 Front window with moving curtain.