DAYGLOW:
a spirit who casts a bright glow in daylight
DÉJÀ VU:
reliving an experience that hasn't actually occurred before; a feeling of having been in a same place or situation before
DEMON:

an evil spirit, usually an underling controlled by a poltergeist.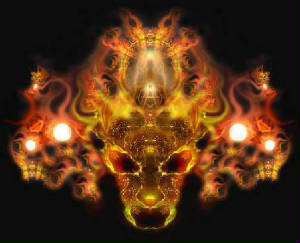 DEMONOLOGY:

the study of evil spirits and the history of demons and other evil creatures
DOPPELGANGERS:
the ghostly double of a living person, usually associated with single twins who lost their twin at an early age, normally at birth.
Click here for more information about doppelgangers.
DOWSING RODS

a pair of wire rods or a forked stick, used to find things such as water, spirits, entities, lost items, or whatever the dowser concentrates strongly to find